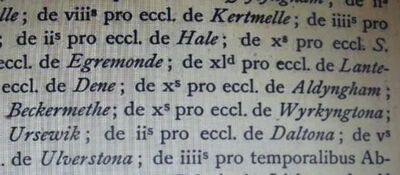 a) ...pro eccl. de Egremonde; de xl pro eccl. de Lanteploghe; de v pro eccl. de Dene; de x pro eccl. de Aldyngham; de ii pro eccl. de Beckermethe; de x pro eccl. de Wyrkyngtona...' - Chetham Society (1888), Remains Historical and Literary: Palatine Counties of Lancaster and Chester, Vol 14, Manchester, page 688 and 690.
Extra points to ponder -
What is the Chetham Society?
Who was Humphrey Chetham?
Sir Humphrey Chetham (1580 – 1653) was an English merchant, living in Manchester, responsible for the creation of Chetham's Hospital and Chetham's Library, the oldest public library in the English-speaking world.
Spelling and pronunciation: Here is a quote from the Chetham website, which indicates a common problem with development of the English language: What is the correct pronunciation of Chetham's? Humphrey Chetham used several different spellings of his name, signing himself on different occasions Chetham, Cheetham or even Cheatham. When he became High Sheriff of Manchester, it was standardised to Chetham, but how he may have pronounced this remains unclear, even to scholars. To compound the confusion, the School of Music have settled on the use of a short 'e', frequently shortening it to Chet's, while the Library tends to use a long 'e', as in the nearby district of Cheetham Hill. In short, we are unable to give a definitive pronunciation – please feel free to say it as you like!