a)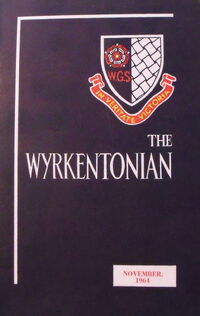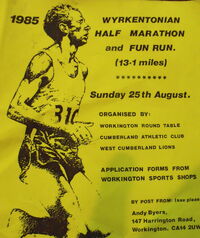 Workington is a considerable market town and sea port at the mouth of the Derwent; 5 miles S.S.W. of Maryport, 7 miles N. by E. of Whitehaven, 8 miles W. by S. of Cockermouth, 34 miles S.W. of Carlisle, and 303 miles N.N.W. of London. The town extends above a mile along the south bank of the Derwent, and, though straggling and irregularly built, contains several good shops, spacious streets, and handsome dwellings. Hutchinson says it was anciently 'the chief haven of the county of Cumberland', but that, about the year 1590, 'when England commanded the seas, all the vessels Cumberland could put to sea amounted only to ten in number, and their mariners to 198.' It was anciently spelt Wyrekinton, Wyrkenton, and Wyrkington, and Leland, who was chaplain to Henry VIII, speaks of it as a place 'whereas shyppes cum to, wher ys a litle fyssher town, cawled Wyrkenton, and ther is the chef howse of Sir Thomas Curwyn.'
- Mannix & Whellan, History, Gazetteer and Directory of Cumberland, 1847 - Pub: Steve Bulman, 30 April 2008.
b) Leyland, the chaplain to King Henry VIII, in writing about that 'pretty fysher toun where shyppes cum to, cawlid Wyrkenton (written differently Wyrekinton and Wyrkington) refers to the name of a brooklet the Wyre; but Chancellor Ferguson more correctly points to it as the tribal settlement 'ton' or 'tun' of the Weorcingas... - Workington Hall by John F Curwen FRIBA, Transactions of the Cumberland & Westmorland Antiquarian and & Archaeological Society - Vol XVI, Ed. TWC Ferguson, Kendal, 1900, page 28.
c) Times have changed much since Leyland, the chaplain of Henry VIII., wrote of Workington the ton or tun of the old British tribe, the Weorcingas, as 'that pretty fysher toun where shippes cum to, cawlid Wyrkenton', but as one passes from Keswick to this busy manufacturing town today, one sees high above the Derwent on the left, the battlemented Workington Hall, which was built round the ancient pele tower, which in time of the Scotch wars, the de Culwen or Curwen of his day, built for his sanctuary.' - St Cuthbert's Last Journey in Cumberland in 'Round The Lakes Country' by Rev. HD Rawnsley, Canon of Carlisle, Pub: MacLehose, Glasgow, 1909, p80. Title page.