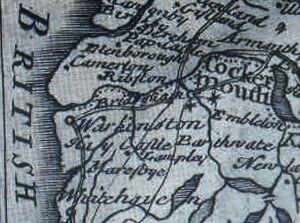 Emanuel Bowen Map 1720
- Map, uncoloured engraving, pl.259,
Cumberland
, scale about 16.5 miles to 1 inch, published by Emanuel Bowen, St Katherines, London, 1720. (Dove Cottage : Lowther.35) now in the Martin and Jean Norgate: 2009 at Geography Department, Portsmouth University.
The image reproduced with kind permission of Martin and Jean Norgate.
Comment: Is the 's' a mistake made by the map maker or engraver of the printing plate? It does not look anything like the other examples of 'g' on the same map.